Here is a list of all in game skills
Have in mind that all skills reach max level at level 10.
Skill durations are stated as short, moderate, prolonged, long that equates to 1, 2, 3 and 4 turns respectively.
True damage, burn, and poison are fixed thus cannot be increased by spirit and are not lowered by target's deffense or elemental resistance although poison and burn can be lowered by burn resistance and poison resistance.

PASSIVE SKILLS 101 (MY NINJA)

Edit
toz
Fos
hihih
Wind ElementEdit
Water ElementEdit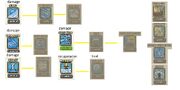 Lightning ElementEdit
Fire ElementEdit
Earth ElementEdit